Share your gear and outdoor experiences with our community.
Jordan Curet
I am a photographer and journalist and have traveled all over the world, only to end up in a little place called Aspen. I work hard and play hard in the outdoors. I am a long time snowboarder (park, all mountain, and back country) and a new addition to skiing. I also Stand Up Paddle board mostly in the rivers (class I-III) but also in the ocean when I can escape the mountains. I also hike, rock climb, wakeboard, surf and do yoga and generally explore my backyard in the Rockies.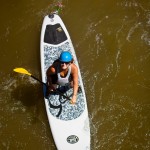 Leah Fielding
One of the first things I noticed when I moved to Colorado in 2008 to pursue a career in outdoor journalism was the rapidly growing women's outdoor gear industry. What I also noticed was that there weren't many outlets for women to learn more about this gear, which is why I created Women's Gear Guide in 2012, after I moved from Boulder, Colorado to Aspen, Colorado. Our aim is to provide outdoor gals with a solid resource they can rely on.
I am an expert skier (former East Coast racer and current Colorado powder hound), advanced mountain biker, avid yogini and happy hiker. My dog, Bromley, is my favorite adventure buddy, other than my husband and I love cooking Indian curry.