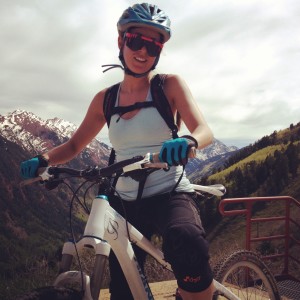 Knee pads are imperative for a variety of outdoor sports: mountain biking, snowboarding, kyaking and bmx to name a few. The Demon Knee Pads Soft Cap Pro X D3O offer complete impact protection and are still incredibly comfortable and minimal.
The Overview
Many downhill trails are opening for the season over the next couple weeks. In addition to a full-face helmet, it's important to have other protective gear so that you can truly shred the dirt. If you're like me, and I'm pretty sure most women are, you feel more comfortable and better able to focus on your technique when you've taken every safety precaution. Salt Lake City-based Demon United has been making protective gear since 1999. They make everything from full-face helmets to back protectors. The nice folks at Demon were nice enough to send me some of their top selling knee pads, the Soft Cap Pro X D3O, to test out. These knee pads are made from flexible lycra and neoprene and feature "smart fabric," also known as D3O, an impact absorption technology. D3O is essentially a free-flowing putty-like material, upon impact the molecules quickly bind together turning the soft putty into a solid, protective material. Pretty cool, huh? A lot of outdoor and action sports products utilize D3O, but what makes Demon knee pads a little different is their sleek and well-thought out construction.
The design features a low-profile foam material that sits right on the knee cap, and the D3O material is on the outside, improving both safety and comfort. Plus, they are lined with strands of beaded silicone running the diameter of the pads, ensuring they stay in place during heavy activity.
The Test
Since Snowmass' Valhalla downhill trail wasn't open yet, I took these on downhill spin from the top of Buttermilk via Government and Bandit trail. Luckily, I didn't have any spills, save from bumping my knees on my peddles in an uncoordinated dismount while trying to navigate some tricky roots. And as I hoped the knee pads did their job. However, my boyfriend, who's also a size small, took them out a couple of times on some long rides because he was intrigued. Well, to say the least, I've had to hide them. We're both very impressed with the level of comfort considering how minimal they are.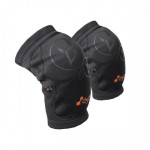 Rating
4.5 (out of 5)
Design: D3O, anti-slip silicone technology, minimalist fit and a high level of comfort. Need I say more? These low-profile, high performance knee pads are just what any hard-charging, or aspiring downhill biker babes need. +1
Style: These are knee pads. We can't have cool patterns and pretty stitching on everything. They aren't eye-catching  but then again that's why I like them, they have a low-profile, minimal and look good on men or women in a multitude of sports. +1
Performance: The D30 material certainly does its job, and does it well. However, after a couple uses, I noticed they did stretch out every so slightly. On a hot day, these are a tad toasty. +.5
Durability: The construction appears to be solid, and have seen no signs to say otherwise. +1
Comfort: The silicone beads ensure there's no obnoxious slipping and sliding and the ultra-thin lightweight materials make the knee pads feel as if they're not even there. +1
Buy Demon Knee Pads Soft Cap Pro X D3O.
One of the first things I noticed when I moved to Colorado in 2008 to pursue a career in outdoor journalism was the rapidly growing women's outdoor gear industry. What I also noticed was that there weren't many outlets for women to learn more about this gear, which is why I created Women's Gear Guide in 2012, after I moved from Boulder, Colorado to Aspen, Colorado. Our aim is to provide outdoor gals with a solid resource they can rely on.

I am an expert skier (former East Coast racer and current Colorado powder hound), advanced mountain biker, avid yogini and happy hiker. My dog, Bromley, is my favorite adventure buddy, other than my husband and I love cooking Indian curry.
Latest posts by Leah Fielding (see all)
Comments
comments