2012 Giant Trance X1 Women's Review
|
An affordable all-mountain rockstar.
The Overview:
This is first of many women's mountain bike reviews, and we have a damn good reason for choosing the 2012 Giant X1 W Trance. This sassy women's all-mountain bike certainly "gets 'er done."If you want a one-quiver bike, she's yours; loose uphill, loose downhill, tight, curvy single track, rocky step downs…you get the drift. Plus, the Trance X1 W is the perfect bike for a woman at an intermediate level looking to it step-up a notch without breaking the bank. At $2,750 this bike is nearly unbeatable in the quality to cost department.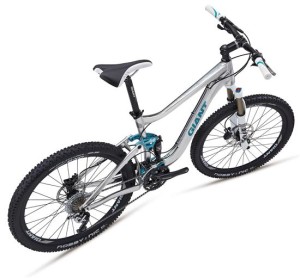 Its slightly slacked-out head angle (the backwards tilt you'll notice in an all-mountain and even more-so in downhill bike), Fox 32 F125RL fork with QR15 thru-axle, Fox FLOAT RP2 Boost Valve and 5 inches of travel makes even the gnarliest downhill easy, breezy. Loose rocks and tight turns? Pshaw. No problem with Giant's tapered steering tube and oversized headset. Huh? I'll break that one down a bit for bike part noobs below.
Tapered Steering—Giant was actually the first manufacturer to bring a tapered steering tube to the market. First, let me further break down bike parts:
Steering Tube — top of the fork which is placed within the headtube.
Headtube — front part of frame which wraps around steering tube.
Headset — internal and external bolts, nuts and caps that hold fork and stem in place and allows for smooth steering.
In sum, the steering tube tapers from narrow to wide at its base, and when combined with larger headset pieces it increases steering precision and reduces friction.
To learn more about mountain bike parts and maintenance click here.
This bike is equipped with nothing but the best components and drivetrains (SLX and XT) all of which decreases weight and increases shifting time and ease.
The icing on the cake for the Trance XI W and pretty much every women's Giant bike is the commitment to female-specific design. Giant's women's line, Liv/giant "is a cycling brand dedicated solely to the female rider. It includes everything from specially designed bikes, gear and accessories to retail stores, events and ambassadors who inspire us to lead happier, healthier, more adventurous lives through cycling." Can't argue with that.
The Test
This bike had me grinning from the moment I pulled it off my roof rack. It was notably lighter than my Giant Cypher 2, likely because of the lighter XT rear derailleur. So riding up Smuggler (a 25 minute sun-baked death march on the outskirts of Aspen) was a little less painful than it usually is. Once at the top, it was time to descend from Lollipop into Hunter Creek. This bike and I were very much on the same page: we like to go downhill! The fork and shock did what I expected them to do, but it was the quick response steering and reduced friction that had me hootin' and hollerin'.
I especially noticed the reduced friction in a very rocky section of Hunter Creek, I could maintain my speed much better without much teeth chatter.
Cons
If you're a seriously advanced rider who beats their bike into the ground on a somewhat daily basis, you may want to consider something a little burlier.
Rating
4.5 stars
Design: With Liv/giant's 3F design in play, you know all saddles, frames and handlebars have been developed based on female anatomy and feedback. +1
Style: The colors—silver/aqua—are clean, simple and feminine. +1
Durability: The aluminum frame and XT/SLX components withstands traveling and crashes with the best of em'. However, advanced riders will likely require burlier components. -.5
Performance: Higher end components and tapered steering making shifting easy and turning on a dime a cinch. +1
Comfort: The ladies-specific saddle makes a huge difference on long rides. +1
*Price Point: The price seems unbeatable, for a mere $2,750 this bike does everything you'd want an all-mountain to do.
Don't forget to check out the 2013 2013 Trance X1 W which will be available this winter/spring season.
Find a Giant seller near you.
One of the first things I noticed when I moved to Colorado in 2008 to pursue a career in outdoor journalism was the rapidly growing women's outdoor gear industry. What I also noticed was that there weren't many outlets for women to learn more about this gear, which is why I created Women's Gear Guide in 2012, after I moved from Boulder, Colorado to Aspen, Colorado. Our aim is to provide outdoor gals with a solid resource they can rely on.

I am an expert skier (former East Coast racer and current Colorado powder hound), advanced mountain biker, avid yogini and happy hiker. My dog, Bromley, is my favorite adventure buddy, other than my husband and I love cooking Indian curry.
Latest posts by Leah Fielding (see all)
Comments
comments