Lowa Renegade GTX Mid Review
|
By Barbara Platts
The Overview: The Lowa Renegade has a reputation for being dependent and versatile in different situations. When I went on a desperate and hurried search for a pair of hiking boots for my Kilimanjaro climb, I knew I would have to find a pair that would perform well in the numerous climate zones I would be facing along my trek.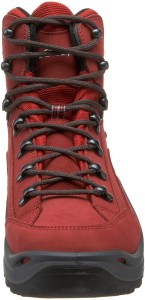 The Test: I've been a minimalist fan when it comes to shoes for years. But I recognized that I would have to get something more durable for my hike up Africa's highest peak. Still, I was skeptical to buy a pair of clunky hiking boots for my journey when I had grown used to scaling trails in my Five Fingers. My skepticism caused me to stall on purchasing a pair of boots until about two weeks before the climb. I finally decided on the Lowa Renegades because they felt the most comfortable in the store.
The Renegades turned out to be the perfect choice for my situation. They come ready to hike in, so my last minute buy did not leave me worried about having to break them in. They renewed my faith in a thicker soled shoe due to their PU Monowrap midsole, which makes them lightweight (less than a pound each) while still providing adequate support.
During the six days on the mountain, these boots became one of my favorite pieces of gear. I often even chose to wear them around camp instead of my tennis shoes because I found them so comfortable. I now have a renewed faith in a thicker shoe and look forward to many more adventures with these hiking boots supporting me from the ground up.
Cons: Since the boots are leather, your feet can get rather toasty inside of them on warmer days. The Renegades are not made out of full pieces of leather though, making them more breathable than some of the heavy-duty leather boots available.
Rating
5 (out of 5)
Design: These boots are well thought out from the lining to the sole, providing a light and comfortable experience while also keeping the foot safe and protected on rough terrain. +1
Style: A boot with a simple and classic look. They are not particularly flashy, but they wear dirt well. The Renegades are available in eleven different colors.  +1
Durability: Derby style lacing helps hold the fit over a long day or week. And the Nubuk leather maintains the boots shape over time as well. +1
Performance: The Vibram Evo sole allows for a steady grip on rocks and scree. The waterproof lining and the leather allow for good performance in any weather. +1
Comfort: The Renegades were non-evasive due to their seamless, waterproof GORE-TEX lining. I left the mountain blister-free ready to wear the boots the next day. +1
One of the first things I noticed when I moved to Colorado in 2008 to pursue a career in outdoor journalism was the rapidly growing women's outdoor gear industry. What I also noticed was that there weren't many outlets for women to learn more about this gear, which is why I created Women's Gear Guide in 2012, after I moved from Boulder, Colorado to Aspen, Colorado. Our aim is to provide outdoor gals with a solid resource they can rely on.

I am an expert skier (former East Coast racer and current Colorado powder hound), advanced mountain biker, avid yogini and happy hiker. My dog, Bromley, is my favorite adventure buddy, other than my husband and I love cooking Indian curry.
Latest posts by Leah Fielding (see all)
Comments
comments