Merrell Avian Light Ventilator Waterproof Hiking Shoes
|
Merrell Avian Light Ventilator Waterproof Women's hiking shoes are no longer available, but you can check out some similar products on REI.com.
The Overview:
Merrell is known for making comfortable, high-quality outdoor footwear. They have a great selection ranging from resilient hiking boots, multi-sport running sneakers and a whole new Barefoot line of trainers, snow boots, walking shoes and even casual slip ons that mimic barefoot walking or running to improve your alignment. But if I had to pick one shoe for our 2012 summer women's hiking boot reviews that's going to do it all, and do it well it'd have to be the Avian Light Ventilators. These are great multi-purpose shoes, great for hiking, running or walking, thanks to lightweight, but durable construction. It's Vibram® Avian Light Rubber Sole keeps the clunkiness to a minimum, but also provides excellent traction and abrasion resistance, ensuring your money is well spent. And since Merrell knows these shoes will last you awhile they incorporate mesh lining treated with antimicrobial solution to keep stink foot at bay. Obviously one for details, Merrell leaves nothing out with its comfort midsole which provides women's specific stride-sequenced cushioning.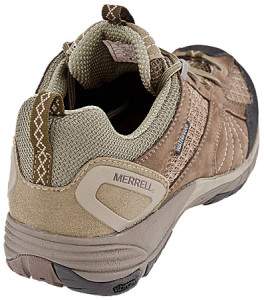 The Test
I particularly liked the comfort level of these hiking shoes. Upon first stepping in they felt like they were already broken in. Score! These shoes are sturdy, not squishy—which is apparently bad for your foot—but there were no awkward pressure points, and the compression molded EVA footframe gave ample support. And they certainly live up to their namesake, aka "Light Ventilators." Although they have the look (and construction) with waterproof nubuck leather and pig suede that is consistent with a heavy-duty ankle-length hiking shoe they are surprisingly lightweight, at just one pound and two ounces. Living in the Colorado Rockies, I tend to hike up loose, rocky steep trails a lot, so a lightweight shoe is key to saving my energy. Going back to the "Ventilator" part, the mesh lining makes this shoe one of the most breathable my tootsies have ever been in. It's been particularly hot and sunny in Colorado this summer, even up in Aspen where I live, so the "Ventilator" function really came in handy. The proprietary Vibram® sole was perfect for the aforementioned "loose, rocky, steep" trails. No slipping or sliding, just gripping. All in all, a great multi-purpose mountainwoman shoe!
Cons
The shoe laces seemed to slip a lot, so you may want to purchase different shoe laces. It's a small detail in the grand scheme of things, but at $100 a pair it really shouldn't be happening.
Rating:
4.5
Design: I really appreciate that Merrell invested some research to pinpoint where women needs the most cushioning based on our stride. +1
Style: Simple, and generally plain. Colors could be better. -.5
Durability: Waterproof and sturdy these hiking shoes get high points in this category. +1
Performance: The lightweight, breathable materials and Vibram® sole allow you to trek for long periods of time with no complaints. +1
Comfort: EVA compression foot bed contours to the foot nicely. +1
Buy Merrell Avian Light Ventilator.
One of the first things I noticed when I moved to Colorado in 2008 to pursue a career in outdoor journalism was the rapidly growing women's outdoor gear industry. What I also noticed was that there weren't many outlets for women to learn more about this gear, which is why I created Women's Gear Guide in 2012, after I moved from Boulder, Colorado to Aspen, Colorado. Our aim is to provide outdoor gals with a solid resource they can rely on.

I am an expert skier (former East Coast racer and current Colorado powder hound), advanced mountain biker, avid yogini and happy hiker. My dog, Bromley, is my favorite adventure buddy, other than my husband and I love cooking Indian curry.
Latest posts by Leah Fielding (see all)
Comments
comments