Oakley Twenty six.2 sunglasses review
|
The Overview:
As someone who's days tend to jump from workout, to coffee shop, to dog walk, to skiing or biking, I like to have products that can address the randomness. Oakley's Twenty six.2 sunglasses are just that. They look cool, yet have functional features like nose and ear grips that suit almost any outdoor activity.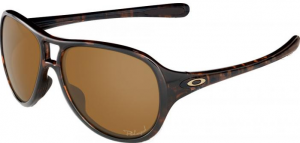 The Test
I wore these sunnies on a fun, quick cross country loop called Bar M during a mountain bike trip to Moab, Utah. I really liked the coverage they provided around my eyes, especially in the peripheral areas. I felt very protected against the intense desert sun. The lenses are Polarized, a standard Oakley feature. They provide 100-percent UVA, UVB and UVC protection. I experience no squinting at all, and enjoyed a crisp, clear view and great depth of perception.
The frames are lightweight and comfortable, and do not slide even with a bike helmet on thanks to nose and ear grips. I  particuarly liked that the ear pieces are straight, instead of curved like most sunglasses are. It seemed to prevent any uncomfortable pressure points behind your ears. These sunnies also perform well in hot, desert conditions, I didn't experience any fogging.
Rating
5 stars (out of 5)
Design: Particular attention to detail and style makes these sunglasses not only look great on almost anyone, but will be comfortable for all face and head shapes. +1
Style: Not too girlie, but trendy. Even the guys will be jealous with these 70s throwback frames. +1
Durability: Lenses and frames are impact-resistant. +1
Performance: Top-notch sun protection, and enhanced vision with Polarized lenses, plus no fogging in hot conditions.+1
Comfort:  Ear and nose grips ensure the frame sits comfortably and ear piece design prevents pressure build up behind ears. +1
One of the first things I noticed when I moved to Colorado in 2008 to pursue a career in outdoor journalism was the rapidly growing women's outdoor gear industry. What I also noticed was that there weren't many outlets for women to learn more about this gear, which is why I created Women's Gear Guide in 2012, after I moved from Boulder, Colorado to Aspen, Colorado. Our aim is to provide outdoor gals with a solid resource they can rely on.

I am an expert skier (former East Coast racer and current Colorado powder hound), advanced mountain biker, avid yogini and happy hiker. My dog, Bromley, is my favorite adventure buddy, other than my husband and I love cooking Indian curry.
Latest posts by Leah Fielding (see all)
Comments
comments