Patagonia Women's Capilene 4 One Piece Baselayer Review
|
There's a good reason why one pieces are slowly making a comeback. They are warmer, more windproof and keep out snow on deep days. With an influx in one-piece outerwear production, like Strafe Outerwear's Sickbird Suit, it seemed only natural that a one-piece baselayer design would follow suit.
Enter the Patagonia Women's Capilene 4 One Piece. Constructed using the softest and most comfortable of all Patagonia's beloved Capilene fabrics and designed with every detail in mind (more on that below), the Patagonia Capilene One Piece is a game changer for the camper, hiker, skier or snowboarder who wants more warmth, comfort and breathability in their baselayer.
The Test
I first wore the Patagonia Capilene 4 One Piece beneath the Strafe Outerwear Sickbird Suit. I think I may have discovered my perfect outerwear/baselayer combination. It was a cooler day, I was skiing at Vail with my family who hails from New Jersey — so I wasn't exactly skiing my hardest. On that day I needed warmth since my body wasn't working that hard and temperatures weren't exactly warm and the wind was whipping. The Patagonia Women's Capilene 4 One Piece delivered. The brushed fleece interior was soft against my skin. Thanks to the lack of seams that two-piece baselayer kits have and the spandex in the fabric I felt unrestrained and comfortable. That's not exactly what I was expecting with a one piece, next-to-skin baselayer. I liked how the one piece moved beneath the Sickbird Suit, which also boasts a fabric with a four-way stretch. The one-piece baselayer and outerwear combination made me feel as if I could move freely and organically.
The second time I wore the Patagonia Capilene 4 One Piece was this past Sunday. It was a beautiful, warm and sunny spring day and I decided to test the one piece's breathability by hiking up Aspen Highland Bowl. It was a little windy at first so I decided against opening my pit and thigh zips, plus I wanted to see what the Polartec Power Dry High Efficiency fabric was made of. As I begin breathing heavier and exerting more energy I noticed I was able to keep great pace with my stride and my breathing. I quickly realized this was because I wasn't focused on how hot I was. Mid-way up the hike I decided to open the zips for some air. Immediately I felt sweat dry off my skin. By the time I reached the summit I was quite comfortable.  I never got chilled from wet fabric because the one piece had already dried. The Polartec Power Dry High Efficiency open grid fabric truly works seamlessly with your body temperature.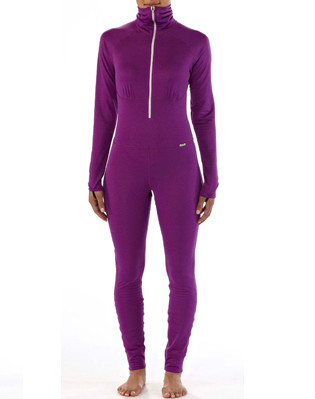 There are several huge details that went into the Capilene 4 One Piece that keep female anatomy in mind. The biggest and most obvious one is the potty flap on the butt. The flap is designed with two side zips that extend low enough so you can sit on the toilet and take care of business. While it's truly great that how a lady relieves herself was taken into consideration when designing this piece, this is also the area where the Patagonia Women's Capliene 4 One Piece comes up short. The top of the zip-down flap has an overlayed piece of fabric that is meant to keep air out and warmth in. Unfortunately it doesn't do this very well. I found my butt to be quite chilly most of the time…and because our hiene's have a much higher fat content then men's they get colder and stay colder. My suggestion to prevent this issue is to install soft, pliable velcro along the top of the flap so it can be sealed better.
Another major plus for ladies is the articulated bust area. I have to say this one piece is flattering to the female figure which is always appreciated. The sleeves stay in place thanks to stretchy thumb straps and you have reinforced neck warmth thanks to the high zip collar.
The Rating
4 (out of 5)
Design: Just about every design detail was clearly and thoroughly thought-out. The one area that could've been explored more was how to keep cold air out of the butt flap. +.5
Style: A flattering cut, high collar and great color (purple) make this one of the cutest baselayers out there. +1
Performance: The Polartec Power Dry High Efficiency open grid, brushed fleece fabric is warm when it needs to be and breathable when it needs to be. It's a revolutionary fabric. The one place where this one piece fails at keeping its wearer warm is the butt flap because it lets in too much air. +.5
Durability: Because the fabric has spandex in it, the one piece moves as the body does ensuring there's no rips or tears. +1
Comfort: The brushed fleece, spandex and lack of seams create one of the most comfortable one pieces I've ever worn. +1
Related articles across the web
One of the first things I noticed when I moved to Colorado in 2008 to pursue a career in outdoor journalism was the rapidly growing women's outdoor gear industry. What I also noticed was that there weren't many outlets for women to learn more about this gear, which is why I created Women's Gear Guide in 2012, after I moved from Boulder, Colorado to Aspen, Colorado. Our aim is to provide outdoor gals with a solid resource they can rely on.

I am an expert skier (former East Coast racer and current Colorado powder hound), advanced mountain biker, avid yogini and happy hiker. My dog, Bromley, is my favorite adventure buddy, other than my husband and I love cooking Indian curry.
Latest posts by Leah Fielding (see all)
Comments
comments