Review: Dalbello Lupo Carbon T.I. Ski Boot
|
Dalbello Lupo Carbon T.I. Ski Boot
MSRP:
$999.95
Pros:
Very stiff, high performing boot with features of a true backcountry boot and none of the floppiness so frequently associated with the genre
Cons:
Comes with tongued liner instead of power wrap liner, reducing stiffness and comfort. Boot is not made in a women's cast and as such might not fit smaller women well. I also am one of those who unfortunately does not find Dalbello's shell sizing to be ideal. I'm always in a boot just a little too small or a little too big. If you don't have this problem, this won't bother you – obviously!
Rating: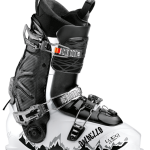 Overview
For a cool thousand clams you can slip your hooves into these top-of-the-line backcountry boots by Dalbello. Tech-compatible and sheathed in carbon, they promise to elevate your skiing to another level.
Features
The Lupo line finally brings Dalbello fit and function to a true backcountry boot. Tech compatible inserts keep the uphill fast and light, a perfect match for the ultra-light carbon shaft. Don't think the light weight means that performance is sacrificed; the boot has a 130 flex, firmer than some of Dalbello's alpine offerings. The lower boot is still made of plastic so have no fear of a bad match; it's still punchable for those who need a little extra tweaking for a perfect fit. Speaking of a perfect fit, though, the boot comes with a tongued liner which in this reviewer's opinion is a ghastly misstep. The addition of a wrap Intuition liner brings this boot's performance up quite a bit and for many skiers will be more comfortable as well. Unfortunately, this means even more expense to dial in an already very expensive boot. Skiing is expensive, though, we all know that, right?
Though the Lupo Carbon doesn't come in a women's specific last, it's got a relatively slender 98mm width, making it bridge the gap between women's and men's fit. Though not ideal, the narrow last goes a long way to making this boot work for women. Unfortunately because it's a men's boot it's pretty tall in the calf, and that might cause some issues for shorter lasses particularly because there is only one shaft buckle, and it's high up (in lieu of a power strap). Here's hoping we get a real women's version soon.
To make this boot really work well for skinning, it comes with a removable tongue. Personally I find it too much of a hassle to remove and re-insert the tongue so I just loosen up the buckles and deal with a little bit of reduced forward flex. If you're used to skinning, this won't bother you at all. I think I'd have to be going on a VERY long skin to bother removing the tongue.
My favorite feature of the Lupo Carbon is the elimination of the Velcro power strap in favor of a third boot buckle. This makes transitioning much easier and streamlines the fit of the boot. If you've ever stuck your power strap to your base layers on accident, you too will appreciate this innovation. I also appreciate Dalbello's attention to custom features that each skier can use to tune the boot just the way she wants it.
Value
If this boot fits you, it's worth the extra couple hundred bucks.
Use
This is a versatile boot that a skier could use at the resort or in the backcountry, though I still prefer dedicated boots for each endeavor. Note that in order to use with Alpine bindings, the skier will have to switch out the boot's soles to ensure that binding safety features work correctly.
Comments
comments