Review: La Sportiva Spantik Mountaineering Boot
|
La Sportiva Spantik
MSRP:
$749.95
Pros:
Very nimble for a double boot; rocker sole gives good walkability while stiff shank and beefy ankle support makes for a boot that can climb technical ice and slog across the most tedious of glaciers.
Cons:
This is a men's boot and thus not optimized for women; lacing system has its ups and downs; sizing is limited in the smaller sizes.
Rating: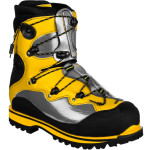 Overview
A boot made for men that shouldn't be discounted by women climbers trying to find the best option in a limited selection. Thanks to a moldable inner boot the fit is better than most other offerings, and, frankly, it's one of the only decent options out there for women.
Features
You'll see the Spantik on top of most "best double boots for mountaineering" lists, but such lists are worth a bit of skepticism because the double boot lineup isn't long enough to make for any real competition. This goes 10x for women, as there is no double boot made on a women's last on the market today. To make matters worse, many of the double boots on the market don't come in small enough sizes to fit all female climbers. The Spantik may fall into that latter category, as Sportiva lists the smallest size available as 38. This may knock it out of contention for some women right away.
For those it does fit, it's hard to do any better than the Spantik. The inner bootie is heat-moldable and takes any insole you choose (by this I mean: throw out the crappy stock Sportiva one that will probably show up half-folded into the boot and/or covered in dog hair – this has been the case with 3 of the 5 pairs of Spantiks I tried – and get a better insole immediately), making it easy to get the fit that you want. I generally feel that Sportivas tend to be too narrow in the toe box and the Spantik is no exception, but this isn't as much a factor with the Spantik because the inner boot can be molded (and it's a men's fit which tend to be wider in the toe box to start with). I've worn Spantiks with and without heat molding the inner boot and some will say that it doesn't matter, but I think that it does, at least if you have any fit issues to address. There's no down side to heat molding, so I say go for it.
The outer shell may or may not be the same size in the half-size as the full – I say "maybe" because all Sportivas are handmade, making irregularities in sizing and fit just a matter of course. This is not really a boot that you necessarily want to buy on the Internet; at least not if you can get to a good shop and try a few different sizes. Generally, starting with your regular Euro size + a half size will probably get you to the Spantik sweet spot, but make sure to give them a good solid test fit before you purchase. And don't worry, you'll get used to that lacing system (maybe).
The lacing system of the outer boot is just a very thin cord that the wearer tightens by pulling and latching the locking rivet on the lower boot, then winding the lace around the rivets on the upper, finishing with a few turns around the top rivet. Sounds weird but you'll get it. The weak points seem to be the one-lace risk – if it breaks, that's it – and the locking rivet that doesn't really like to release such a thin cord. I wonder if it would all be better with a slightly thicker lace. In any case, carry an extra lace if you're on a long trip and hope very much that your laces don't break when you don't have a warm tent to retreat to, as the likelihood of changing laces or repairing such a tiny cord in the cold is very slim indeed. It's difficult to get these boots laced at all when you're wearing big gloves. Still, while the lacing system is kind of weird and has its flaws, I find that I futz less with the lacing once the boots are on than with regular-style laced boots. The pressure is equalized and it doesn't come loose.
On technical ice the Spantiks make a climber as happy as can be. For a big boot they are surprisingly nimble. I don't notice too much of a difference in precision between climbing technical ice in the Spantiks vs. any of my single boot options, except that in the Spantiks I'm warmer, which is the entire point of having them, you know? They are indeed going to be a bit bigger than a single boot, but after a few pitches it's not noticeable.
Walking on level ground, though, they are noticeably more clonky than a single boot (unavoidable) but are light years more comfortable to walk in than any of the plastic boot options. This is partly due to their relative light weight – you will never find a plastic boot as light as this – and partly due to the curved sole that makes walking a little easier than is typical in big boots. I do, at times, get a buildup of snow on the sole of the boot which I have never experienced before in any type of boot. I wonder if the rocker sole picks up more snow than other boots, or perhaps the stiffness of the shank doesn't shed the snow as well. It hasn't been a huge problem yet, but it's something to watch for. In any case, with crampons I always use antibotts to avoid this problem.
You might find the upper of the boot to be too tall for shorter legs. It hits me up past the calf muscle which isn't ideal – something a women's version would probably address. When breaking in these boots, expect to get some bruising around the calf if you are on the shorter side. Though you might feel silly, wearing these on shorter walks before heading to the big mountains with them goes a long way towards making yourself comfortable on a long trip.
The Spantik is certainly a big step up in warmth from any single boot and the plastic double boots, but I'd still want an overboot if I were taking it up Denali. I tend to be cold in general with my feet being my cold sink so that might not be a factor for every climber, but make sure to test the limits of the Spantik or any boot you wear before you find out the hard, and toe-sacrificing, way that it's insufficient. For anything in the Chugach or in the lower 48, the Spantik is unbeatable and I'd recommend it without hesitation. Don't get me wrong; plenty of climbers use the Spantik on Denali without issues, but I am wary of trusting any boot in an unforgiving environment until I know for sure it's going to work for me.
While it's a bummer that climbing footwear companies still don't recognize female climbers as a consumer demographic, the Spantik makes up for a lot. I suspect that if Sportiva made a female-oriented version of the Spantik, they'd crank down the toe box and I wouldn't like the fit. The moldable inner boot and the general design of the Spantik makes the gender disparity almost moot
Value
Mountaineering boots aren't cheap, so you're going to be spending quite a bit. Might as well spend a little more and get the Spantik if that's what you want.  You might still need overboots with these, so factor that into your purchase though.
Use
Don't listen to the people who tell you these are only for extreme mountaineering. If you get cold feet in the winter, go ahead and use your Spantiks for ice climbing, hiking, whatever your heart desires. Personally, if it's cold enough to climb ice, I'll probably wear these because I get cold feet in single boots pretty easily. I even like them for snowshoeing as they are stout enough to give a good platform for the snowshoe bindings. 
One of the first things I noticed when I moved to Colorado in 2008 to pursue a career in outdoor journalism was the rapidly growing women's outdoor gear industry. What I also noticed was that there weren't many outlets for women to learn more about this gear, which is why I created Women's Gear Guide in 2012, after I moved from Boulder, Colorado to Aspen, Colorado. Our aim is to provide outdoor gals with a solid resource they can rely on.

I am an expert skier (former East Coast racer and current Colorado powder hound), advanced mountain biker, avid yogini and happy hiker. My dog, Bromley, is my favorite adventure buddy, other than my husband and I love cooking Indian curry.
Latest posts by Leah Fielding (see all)
Comments
comments