Strafe Outerwear Sickbird Suit Review
|
The Overview
In our little snowsports world one-piece suits, or onsies, are generally reserved for very specific functions: Closing Day at your local ski resort, retro ski costume parties and downhill racing. If you're not a racer and happen to own a one piece  it's probably only brought out once or twice a year. These onesies are typically snug in the buttocks, feature some sort of built-in belt and offer a dazzling display of neon color blocks bright enough to make fellow skiers and snowboarders go momentarily blind. While nothing can quite beat a Closing Day onsie, they are not exactly my first choice on a powder day and especially out of the question on a warm, spring day.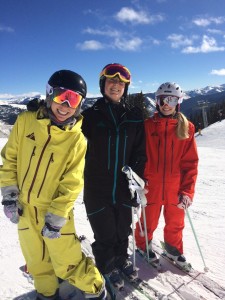 Enter Strafe Outerwear. This Aspen-based company has forever changed my opinion of what a onsie can look like and how it can function. Strafe's Sickbird Suit is in fact the perfect companion on a powder day, or even a sunny, 50-degree spring day, for that matter.
This three-layer unisex "suit" not only keeps snow out like a champ on the deepest of days, but it's 30,000  cfm-rated, ultra-breathable fabric and large thigh and pit zips make it exactly what you want to be in when temperatures climb or you set out on a backcountry tour or some sort of winter cardio trek. In fact, the famed Colorado inbounds struggle fest, known as Highlands Bowl, is exactly where the idea to create this stylish and functional piece—as well as Strafe's other outerwear kits—came from. Twin brothers John and Pete Gaston grew up skiing at Aspen Highlands, and Highlands Bowl was where they spent the vast majority of their time. It fostered a young predilection for both touring and big mountain-style skiing. These days the brothers are world-class athletes, John is a U.S. randonee champion and Pete is an avid mountaineer, certified mountain guide and an international athlete for Salomon. You can bet these guys really know how to test and create functional gear.
The Test
I've been able to experience this suit on some of the coldest, deepest days Aspen has seen this winter, as well as more recent warm, sunny days. Like all of Strafe's pieces, the Sickbird Suit is made of high-performance shell fabric. When I first felt the fabric I was not convinced that the material would  keep me warm on a cold day, but with the proper layering system (Patagonia Capilene 4 baselayer and a mid-layer like the Patagonia Nano Puff Pullover Insulated Jacket or Strafe's Incubator) I felt surprisingly comfortable. I was warm and dry thanks to the fully taped seams, three-layer fabric and YKK zips.  I'm sure the 15 stitches per inch also aided in keeping me comfortable in cold, snowy conditions. If I did sweat while picking my way down through deep, tight trees or steep moguls, I never noticed it.
This past weekend was one of the warmest Colorado has seen in awhile—38 degrees, sunny and clear. It was the perfect opportunity to hike up Aspen Highlands Bowl and see just how comfortable and functional the Sickbird is in warm temperatures. I was equally impressed with the Sickbird's warm weather performance. The two large inner thigh vents and large pit zips allowed me to stay cool on the hike. Plus the fabric's four-way stretch made for easy, comfortable hiking, I experienced no uncomfortable pull, bunching or high-riding that I often experience with women's ski pants. And since the weather was nice I was able to make better use of the many pockets that the Sickbird boasts. I really liked the inner media pocket, google pocket and breast pockets. Some jackets have too few pockets and if you put credit cards and money in with your phone (which is constantly coming out on the chairlift or for scenic mountain insta pics, if you're anything like me) then you run the risk of pulling everything out at once and losing your valuables. So personally, I like being able to compartmentalize my crap in my jackets.  Another cool feature was the wide wrist cuffs. There's nothing I hate more than struggling to stuff my mittens into my sleeve. The Sickbird sleeves easily fit over the puffiest of mittens and longest of snowboarding gloves and the velcro closure stays on well. I also appreciated the ankle zip, which many women's pant lack (take note!) which provides the opportunity to adjust the pant length and look.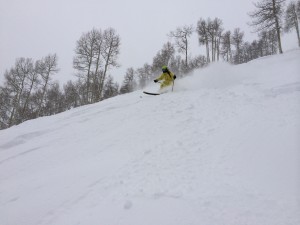 Some girls are not into the relaxed, freeride look, and I totally respect that. The Sickbird Suit is not what I would call feminine—it's definitely a unisex piece that is designed with the male physique in mind. There is an interior waist cinch which allows for more fitted garment adjustments, depending on your style. I personally like the comfort of the bagginess so I don't touch the waist cinch.
 Rating 
4 (out of 5)
Design: John Gaston, who is the head designer, has thought of everything and it's clear especially after you wear it for day. Everything from the placement of zippers and vents, to wrist and ankle powder cuffs, the wide wrist band and adjustable velcro strap, the adjustable ankle zip, to the waist cinch was planned with a keen eye for innovation and efficiency. My only qualm is sizing. If they truly want to be unisex, there needs to be an even wider gap in sizing. The XS I tested could be at least a half an inch shorter and narrower. +.25
Style: Style is personal and I'll be the first one to admit that the Sickbird Suit is not feminine, but it's certainly cool and undoubtedly functional. It's a onsie, so feminie or not, so wearing this on any given day takes a certain level of confidence and ability to answer strangers' questions about what the heck you're wearing. +.75
Performance: With its 20K mm-rated waterproof and 30K cfm-rated breathable, four-way-stretch, three-layer construction and fully taped seams the Sickbird Suit can easily compete with the industry's top technical garments (but at a more affordable price point). +1
Durability: Between 140-Denier ultra durable face fabric and superfabric instep and heel guard, the Sickbird Suit stands up to run ins with scratchy branches and trees and general wear and tear. +1
Comfort: The four-way stretch fabric makes for comfortable hiking, touring, skiing/riding and apres-ski lounging…you could wear this thing all day. +1
One of the first things I noticed when I moved to Colorado in 2008 to pursue a career in outdoor journalism was the rapidly growing women's outdoor gear industry. What I also noticed was that there weren't many outlets for women to learn more about this gear, which is why I created Women's Gear Guide in 2012, after I moved from Boulder, Colorado to Aspen, Colorado. Our aim is to provide outdoor gals with a solid resource they can rely on.

I am an expert skier (former East Coast racer and current Colorado powder hound), advanced mountain biker, avid yogini and happy hiker. My dog, Bromley, is my favorite adventure buddy, other than my husband and I love cooking Indian curry.
Latest posts by Leah Fielding (see all)
Comments
comments