The North Face Windwall Women's Jacket
|
By Barbara Platts
The Overview: Everyone owns a fleece. Even if you spend most of your time indoors, far away from the mountains, chances are you sport the North Face logo or a similar brand. Due to the plethora of fleeces around, it is often difficult to decipher which ones will provide the most warmth and protection for those long days out on the trail in frigid and windy conditions. I ran across this problem when I was looking for that essential layer to protect my body temperature during a hiking trek up Kilimanjaro earlier this month.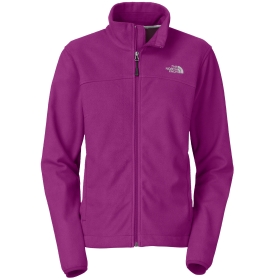 The Test: From the rain forest to the arctic zone, The North Face Windwall Women's Jacket  aided in my overall comfort numerous times on Kilimanjaro. The soft material makes it feel like a normal North Face Fleece, but it doubles as a wind breaker when gusts pick up, blocking out chills on some of the highest climates.
I was happy to notice that the jacket works well in all weather conditions. When the sun starts to shine and the temperature rises, the fleece does not suddenly become too hot and uncomfortable to wear. It breathes but doesn't let wind in. This was the perfect layer on summit day and just as a light jacket on a warmer day through the rainforest.
Cons: The only downside to this jacket I have found is that it becomes a magnet for dried up leaves and/or small pieces of wood. This can get rather annoying out in the wilderness where a lint roller isn't readily available.
Rating
5 (out of 5)
Design: A standard fit with two pockets and a hem cinch cord at the bottom for extra tight fitting. +1
Style: This fleece isn't too bulky so it works well as a layer or by itself. A simple look, but chic, would work well on any body type. Comes in six different colors. +1
Durability: The mesh backer and fleece material make this a jacket for overnight trips or long days. +1
Performance: Wind permeability rated at 14 CFM, meaning it is wind-resistant but not wind-proof. Feels like the perfect amount when it is on because it still provides breathability and the opportunity for movement. +1
Comfort: Built with a fleece backer, keeping the interior soft and warm, making you feel like you are cocooned in coziness. +1
Buy The North Face Windwall I Women's Jacket at $120.
One of the first things I noticed when I moved to Colorado in 2008 to pursue a career in outdoor journalism was the rapidly growing women's outdoor gear industry. What I also noticed was that there weren't many outlets for women to learn more about this gear, which is why I created Women's Gear Guide in 2012, after I moved from Boulder, Colorado to Aspen, Colorado. Our aim is to provide outdoor gals with a solid resource they can rely on.

I am an expert skier (former East Coast racer and current Colorado powder hound), advanced mountain biker, avid yogini and happy hiker. My dog, Bromley, is my favorite adventure buddy, other than my husband and I love cooking Indian curry.
Latest posts by Leah Fielding (see all)
Comments
comments