Top Picks: 2014 Women's Big Mountain Skis
|
If you have a ski racing background or just really like to point your skis straight down a face and send her, the big-mountain ski class is right up your alley. Most big-mountain skis combine the benefits of powder skis—a rockered tip— with a stiffer construction and tail, as well as traditional camber and sidecut. Generally, the turning radius on big-mountain ski is larger than other styles, making it a ski that demands its rider to be aggressive.  While big-mountain skis do require a certain level of skill and strength, they reward the rider by providing optimal performance in a variety of snow conditions. Big-mountain skis can cut through chunder, glide through heavy snow and carve nicely on groomers.
Here's Women's Gear Guide's top picks for 2014 women's big mountain skis. Tweet at @womensgearguide if you have any questions about our suggestions. And be sure to check out our top picks for 2014 Women's Powder Skis and all our review of the Armada TSTw and Liberty Powder Envy.
Rossignol Savory 7
The Rossignol Savory 7, and its male counterpart the Soul 7, are pioneers in the next phase of freeride skis. This brand new model is an ultra versatile design that combines progressive early rise (a.k.a. rocker) tip with a lightweight honeycomb construction in the tip, which essentially eliminates "tip flap," a negative side effect of the early rise tip and traditional camber movement that can plague hard charging skiers. Additionally, the progressive, or less sharp early rise in the tip also allows the skier to retain more speed and maneuverability through deep powder. The lightweight paulownia core further reduces the weight of the ski, which is always a plus for ladies looking to preserve their precious knees. Oh, and we almost forgot. The Savory 7's dimensions are new to the Rossignol quiver. The Savory 7's waist is 106 mm underfoot, making it wide enough for the deep stuff and just as good for cruising groomers, hard chunder and anything else that comes your way on the mountain.
Lengths: 162,170,178
Dimensions: 136-106-126
Dynastar Cham W 107
If you thought lightweight and stiff, hard-charging skis could never be one and the same, you've never skied the Dynastar Cham W 107 Built and tested on the renowned pistes of Chamonix the all-new Cham Woman 107 delivers high-performance freeride versatility conquering any and all terrain and snow conditions. Cham W's design utilizes tip rocker/early rise and five-point sidecut, plus a lightweight paulownia wood core. Together these design and construction elements deliver  one poppy, responsive and maneuverable ski that rails on groomers, turns on a dime in trees and floats beautifully in powder. Additionally, the unique flat/pintail not only improves stability at high speeds, but it also enhances tip float in the deepest snow conditions.
Lengths:157, 166, 175, 184
Dimensions: 130/137/107/122/98
Kastle BMX 118
Ladies looking for a hard-charging ski that does it all will love the Kastle BMX 118. It doesn't hurt that this sharp looking ski has some pink on it.  A wide, minimal early rise tip provides its rider with exceptional stability and float, plus, the tip sidecut extends into the early rise tip—before the contact point with the snow—making for increased surface contact and performance on hard pack, as well as floatation in deeper snow.  That said, you really need to know how to set a ski on edge to work these pretty gals. If you do, you will love the Kastle BMX 118.
Lengths: 168, 183
Dimensions: 138-118-128
K2 SideKick
As a backcountry babe, theK2 SideKick has to be a lot of thing because you never know what you'll encounter out yonder. Ultimately the K2 Sidekick is meant to get out there, so it's definitely lightweight for touring. It's also maneuverable in the trees and it's rockered profile and 108 mm under foot make it ideal for out-of-bounds powder stashes. The K2 SideKick is plenty stiff to stand up to variable snow conditions and makes charging through crud a cinch.
Length: 153, 160, 167, 174
Dimensions: 139-108-127
Blizzard Dakota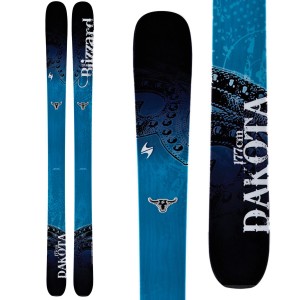 The Blizzard Dakota is ultimate, all-around ladies charger. This ski demands a rider who knows how to finesse it. This isn't necessarily as versatile as the others in its class. It's stiff, mean and here to get the job done, a.k.a. slicing and dicing through whatever Mother Nature throws at it. Let me repeat, this ski isn't for the weak of heart or thigh muscle. If you now how to work her, the Dakota can be playful in the trees, responsive on moguls and floaty in powder. Ultimately though, the Dakota likes to go fast.
Length: 170, 177
Dimensions: 134-108-122
One of the first things I noticed when I moved to Colorado in 2008 to pursue a career in outdoor journalism was the rapidly growing women's outdoor gear industry. What I also noticed was that there weren't many outlets for women to learn more about this gear, which is why I created Women's Gear Guide in 2012, after I moved from Boulder, Colorado to Aspen, Colorado. Our aim is to provide outdoor gals with a solid resource they can rely on.

I am an expert skier (former East Coast racer and current Colorado powder hound), advanced mountain biker, avid yogini and happy hiker. My dog, Bromley, is my favorite adventure buddy, other than my husband and I love cooking Indian curry.
Latest posts by Leah Fielding (see all)
Comments
comments