Top Picks: 2014 Women's Freestyle Snowboards
|
Not every day is a powder day, and some days you just need to get off the snow (literally) and put some air under your deck. Whether sending it off a jump, flying up the halfpipe or slipping some rails, the park is for everyone, so don't be daunted. And for the right maneuvers you need the right board. Your freeride board will get you through the park, but a freestyle snowboard is designed specifically for those features. Not just a gimmick, freestyle snowboards are made a little lighter, twin shaped and with a softer flex than their all-terrain counterparts. These specs allow for more flexibility in movement, spinning ease and a little extra pop. So take our top picks for women's freestyle snowboards of 2014 for a lap through the man-made park—they're also super fun for playing on natural terrain features around the mountain.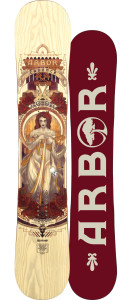 Arbor Cadence
True twin
Continuous rocker
Centered stance
Arbor has always been a personal favorite for me because they always have the best, artist- inspired graphics. But underneath the stylish top sheet there is a lot to make this board a great pick. Arbor is known for their sustainable production—made from the recycled steel edges and a poplar wood core. The Arbor Cadence is a responsive yet playful, with a medium flex and perfect pop to ollie off every kicker and jib. This board is lightweight and pliable underfoot making it an ideal choice to spin off anything. Out on the big slopes there is just the tiniest but of chatter at high speeds but it holds up great float in pow, even with the centered stance.
GNU B Street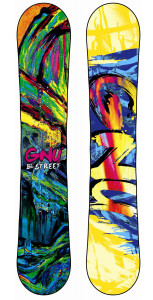 True twin
Continuous rocker (Banana rocker)
Centered stance
A little blend of all the goods, the GNU B Street is rocker between the bindings and then slight camber out to the contact points. This makes for effortless riding, nice float in the pow and stable underfoot. GNU brings Magna-traction to this board, which is literally serrated edges that give great edge hold all over the mountain. This comes in handy when slipping down rails or over icy patches. The edges of this board are also beveled to avoid getting hung up on a feature. The aspen wood core of the B Street is snappy, making this board very responsive but still poppy and fun, and just soft enough to butter for days.
K2 Lime Lite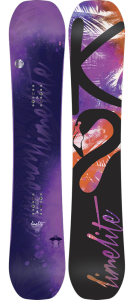 True twin
Flat to rocker
Centered stance
Somewhere I heard that the Lime Lite is "made for women that ride the whole mountain with a freestyle mindset." And this couldn't be more apt. The K2 Lime Lite is a fun ride and there is no way to ride it, in or out of the park, without a smile on your face. The Lime Lite is a perfect freestyle snowboard for jumps and jibbing, but the medium edge hold makes it not so great in the pipe. The flat base underfoot allows it maintain solid speed into jump lines and stay smooth in uneven terrain. K2 added its signature Tweekend to the tip and tail, basically this means a stable, ride-able surface letting you lock down presses, float and stomp landings. K2 pressed three types of renewable wood into the core, creating a combo of strength, reduced weight, and resilient flex. The Lime Lite is a treat the mountain like a park kind of board, so I dare you to find something you can't have fun with on this this board.
I am a photographer and journalist and have traveled all over the world, only to end up in a little place called Aspen. I work hard and play hard in the outdoors. I am a long time snowboarder (park, all mountain, and back country) and a new addition to skiing. I also Stand Up Paddle board mostly in the rivers (class I-III) but also in the ocean when I can escape the mountains. I also hike, rock climb, wakeboard, surf and do yoga and generally explore my backyard in the Rockies.
Latest posts by Jordan Curet (see all)
Comments
comments